Samuel Leonard (Len) Gray
10 January 1917 - 16 March 2008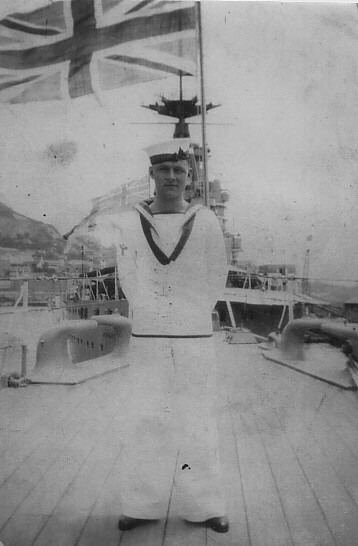 Granddad standing on the forecastle of HMS Hood
My Granddad was born on 10 January 1917 in Aldershot, Hampshire, England to parents Samuel Barker Gray who served in the British Army and Elsie May Gray (nee Zimmer). To most my Granddad was better known as Len.
He is known to have worked as a fitter prior to joining the Navy. He volunteered for 12 year term in the Royal Navy in December 1934, but did not enter the Navy until 22 January 1935.
My Granddad joined the Navy as a Stoker 2nd Class. He was trained at shore base HMS Victory 2 from January to Aug 1935. After completing training he joined the crew of battle-cruiser H.M.S. Hood on 30 August 1935.
H.M.S. Hood
During his time in HMS Hood, the ship was stationed in the Mediterranean escorting merchant shipping during the Spanish Civil War. He was promoted to Stoker 1st Class during this timeframe. He remained with HMS Hood until 23 November 1937, when he returned to HMS Victory 2. He remained there until March 1938 when he joined HMS Enterprise. He would be assigned to both the Emerald-class light cruiser HMS Enterprise and Hawkins-class heavy cruiser HMS Effingham for the remainder of the year.
My Granddad returned to shore base HMS Victory 2 in February 1939. The remainder of that year saw him serve in/at shore base HMS Excellent serving in the Hawkins-class heavy cruiser HMS Frobisher and return again to HMS Victory 2. He was promoted to Acting Leading Stoker during this timeframe.
In January 1940, my Granddad joined shore base HMS Cochrane 2 serving in the destroyer HMS Vega. HMS Vega was an Admiralty V & W class Destroyer. On the 11 Nov, 1940 HMS Vega was damaged when she hit a mine near Harwich (off Sunk Head). He remained on HMS Vega until December 1940.
In the meantime, he had been promoted to Leading Stoker. He spent the rest of the month in shore base HMS Pembroke 4 serving on the Hunt-class destroyer HMS Athelstone and joined shore base HMS Victory 3 in mid January 1941. He served at HMS Victory 2 in April and May 1941. The remainder of the year saw him serve in the Arethusa-class light cruiser HMS Aurora.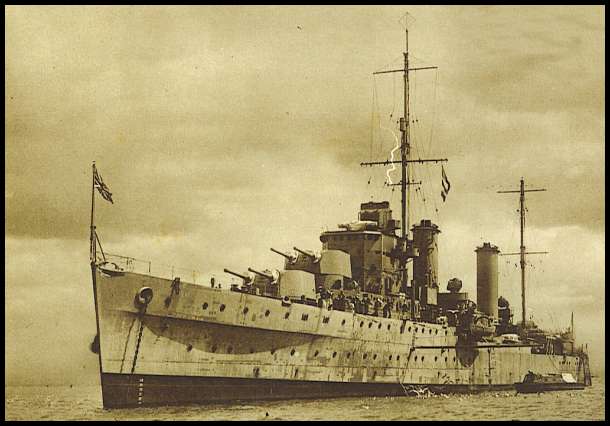 H.M.S. Aurora
The HMS Aurora was a part of Force K, a raiding squadron of cruisers. Their task was to intercept and destroy German and Italian convoys en route to Libya. The convoys were supplying Rommel's Afrika Corp in North Africa with troops and equipment.
Force K was sent out on 18 December to intercept a convoy bound for Tripoli. HMS Neptune, leading the line, struck two mines, part of a newly laid Italian minefield, during the night of 19 December/20 December 1941. The other cruisers, the HMS Aurora and HMS Penelope also struck mines. Reversing out of the minefield, HMS Neptune struck a third mine, taking off her propellors and leaving her dead in the water.
The HMS Aurora was badly damaged, my grandfather worked on the engines which had been knocked out by a mine, eventually getting engines working. The Aurora was down to 10 knots (19 km/h) and needed to turn back to Malta immediately but the destroyers HMS Kandahar and HMS Lively were sent into the minefield to attempt a tow.
My Granddad's actions on the night of 19 December 1941 resulted in the saving of many lives of those who served on the HMS Aurora as the threat of enemy ships in the area was very real.
He joined the shore base St Angelo, HMS Talbot in Malta in January 1942.
In June 1942 my Granddad was serving on the submarine depot ship HMS Medway when she was assisting in the evacuation of troops from Alexandria. Accompanied by eight destroyers she headed for Haifa. At 08.24 hours on the 30th June, 1942 she was torpedoed and sunk by German U-boat U-372. My Granddad climbed down into the water on ropes to his safety. By the end of World War 2 my Granddad was torpedoed on three separate occasions.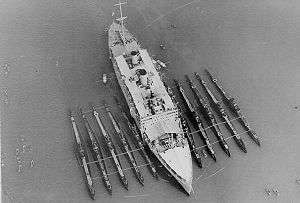 H.M.S. Medway
Shortly thereafter he was appointed Acting Stoker Petty Officer (Ty). He returned to shore base HMS Victory 2 in July 1942 and remained there until July 1944.
While Granddad was assigned to HMS Victory 2 he was also stationed at shore base HMS Assegai in South Africa. From September 1942 to March 1943 he served on the County-class heavy cruiser HMS Devonshire. He then served on HMS Laura during March 1943. From March 1943 to January 1944 he served on the submarine depot ship HMS Lucia. He returned to HMS Assegai in January 1944 to February 1944. Most of this timeframe, 1942 to 1944, was involved in naval operations in the Indian Ocean between Africa and Australia.
During this timeframe he was promoted to Stoker Petty Officer (Ty). From July to November 1944 he served at shore base HMS Drake 4 serving on the W-class destroyer HMS Wivern. He then served in shore base HMS Cochrane 2 until June 1945.
My Granddad served at HMS Victory 2 from June to December 1945. He was promoted to Stoker Petty Officer during this timeframe. He then served at HMS Enterprise until January 1946. The remainder of the year was spent in/at repair ship HMS Ranpura with a short time at HMS Victory 2.
On February 18th, 1947 my Granddad married my Nanna in Hampshire, England.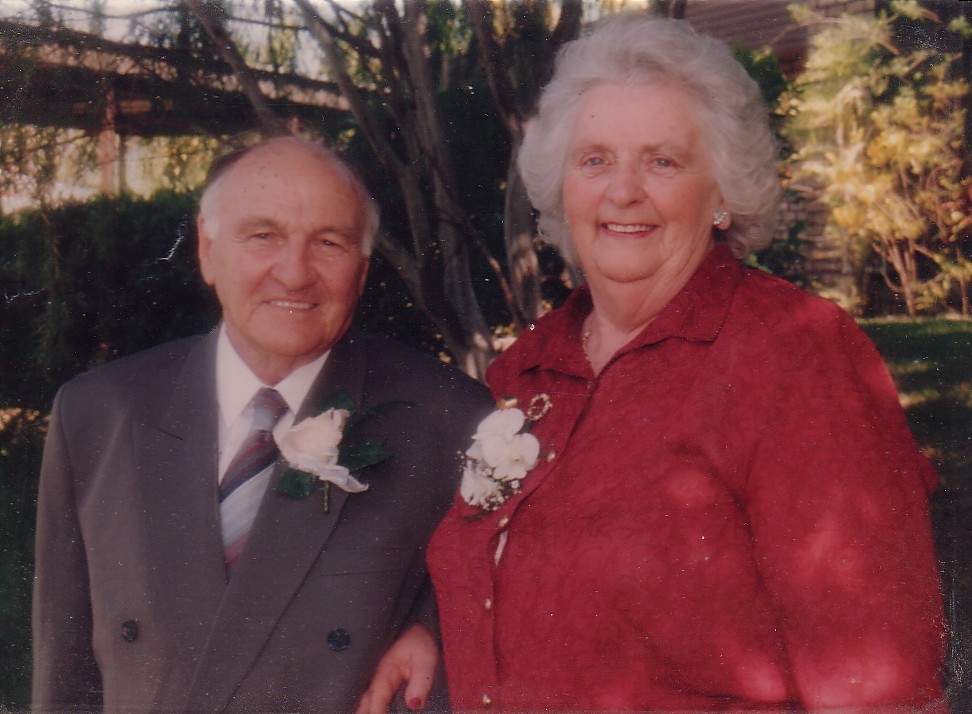 My Granddad and Nanna (1994)
1947 saw him leave HMS Ranpura and serve in/at shore base HMS Victory 2, shore base HMS Mercury, shore base HMS Victory, submarine depot ship HMS Resource, shore base HMS Victory and shore base HMS Fort St Angelo. He was promoted to Petty Officer Stoker Mechanic that same year. 1948 saw him leave St Angelo and serve in/at submarine depot ship HMS Forth. He remained at HMS Forth until January 1950. The remainder of 1950 saw him serve at/in Kamarata Barracks and shore base HMS Victory. He became a Chief Petty Officer Stoker Mechanic during this time frame.
He served most of 1951 in the aircraft carrier HMS Implacable. He left the ship in late October to join the crew of battleship HMS Vanguard. He remained with Vanguard until May 1954. He then transferred to shore base HMS Bellerophon where he remained until December 1956. He had been promoted to Chief Mechanic (E) during that timeframe.
My Granddad's next assignment was a two month assignment to Victory. He then joined the Town-class light cruiser HMS Newcastle where he remained until October 1958. He was then posted to shore base HMS Sultan until March 1960. The rest of that year was spent at shore base HMS Phoenicia in Malta and shore base HMS Victory. He left HMS Victory in August 1961 and joined HMS Bellerophon. He rejoined Victory in December 1961 and spent his final month of service there.
My Granddad retired from the Royal Navy and was pensioned on 21 January 1962.
During his naval service, he received the 1939-45 Star, Atlantic Star (with France & Germany clasp), Africa Star, Pacific Star, Defence Medal, the War Medal 1939-45 and the Royal Navy Long Service & Good Conduct Medal.
In 1963 my Granddad and Nanna emigrated to Australia with their daughter's Lynda, Julia and Elizabeth residing in South Australia in the same house to this date.
My Granddad worked at the Holden Vehicle Manufacturing Plant in Elizabeth up to the late 1970's managing in the Main Power Plant.
In retirement my Granddad was always busy finding there was always something to do around the house from complete renovations inside and outside the house which he continued to do up to when he was in his 90's as well as gardening.
My Granddad has three Grandsons, Grant, Dale and myself, Craig. He has 9 Great Grandchildren, Ashley, Leanne, Joshua, Jeremy, Aiden, Jamieson, Benjamin, Seth and Slade. And now a new entry a Great Great Grand Daughter Amelia.
My Granddad's Naval career is also on the internet on the website www.hmshood.com under crew biographies.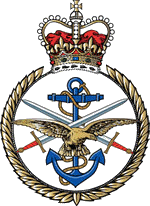 Below is a Time Line of Granddads active War Service
HMS Frobisher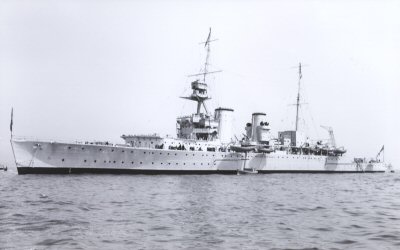 1 9 3 9
September:
In reserve at Portsmouth. Selected for re-arming and refit.
HMS Vega
1 9 4 0
January to April
East coast convoy defence in continuation.
May
Evacuation of troops from Dunkirk
Detached for support of military operations in Channel area. Assisted in evacuation from Ostend and Zeebrugge.
26th
Deployed as Senior Naval Officer's ship for operation to sink two blockships at Zeebrugge (Operation LYSTER).
June
Channel deployment in support of military operations in continuation.
10th
Escorted blockships to block harbour entrance at Dieppe and on completion provided support for evacuation of personnel from Le Havre.
17th
Deployed in support of evacuation from St Nazaire and the Bay of Biscay ports.
(Operation AERIAL).
July
Resumed North Sea convoy escort duty.
August to December
North Sea convoy escort in continuation.
HMS Atherstone

1 9 4 0
October to December
Under repair
HMS Aurora
(The Silver Phantom)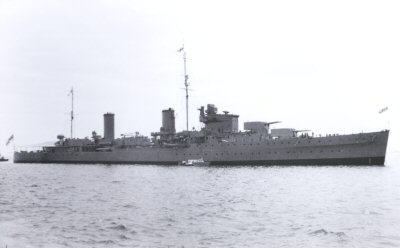 1 9 4 1
May
Resumed Squadron duties at Scapa Flow on completion. Carried out sea trial RN design replacement for Type 286 Type 290 prior to its introduction.
(Note: Type 286 was an RAF Air-Surface warning radar modified for shipbome use and was of limited value.)
22nd
Deployed with other ships of Squadron as screen for HM Battleship KING GEORGE V and HM Aircraft Carrier VICTORIOUS during search for German battleship BISMARCK and cruiser PRINZ EUGEN which were known to have sailed for attacks on Atlantic convoys. For details see Naval Staff History, ENGAGE THE ENEMY MORE CLOSELY and BATTLESHIP BISMARCK by Mulleneheim Rechberg).
24th
Detached with HM Cruisers KENYA and HERMIONE to escort HMS VICTORIOUS during air search operations.
26th
Detached to refuel in Iceland.
27th
(Samuel Leonard Gray boards the HMS Aurora)
30th
Resumed patrol duty in NW Approaches after sinking of BISMARCK.
June
3rd
Intercepted German supply ship BELCHEN in Denmark Strait with HMS KENYA.
(Note: Sank BELCHEN by torpedo after radar detection and surface gun attacks following information obtained from decryption of ENIGMA signals. See IN HARMS WAY by B Crabb and Naval Staff History. The enemy ship had been deployed to provide fuel for German commerce raiders. This interception had after decryption of enemy signal traffic by GCHQ at Bletchley Park.
See BRITISH INTELLIGENCE IN WW2 (HMSO -Ed by Hinsley)
25th
Provided cover with HMS KENYA for minelay by ships of 1st Minelaying Squadron in Northern Barrage (Operation SN70B).
July
Deployed in further search for German supply ships
1st
Returned to Scapa Flow.
27th
Deployed with HM Cruiser NIGERIA, HM Destroyers PUNJABI and TARTAR to carry out a reconnaissance to determine the suitability of use of Spitzbergen for refuelling warships in Lowe Sound.
(Note: This was in anticipation of future requirements for Russian convoys and to deny use of the island to Germany. See ENGAGE THE ENEMY MORE CLOSELY).
31st
Arrived at Spitzbergen.
August
2nd
Called at Bear lsland on return passage and destroyed installations before evacuating personnel.
6th
Arrived at Scapa Flow.
19th
Deployed with HM Cruiser NIGERIA, HM Destroyers TARTAR, ICARUS, ANTHONY, ANTELOPE and ECLIPSE as escort for ss EMPRESS OF AUSTRALIA during passage to land Canadian troops on Spitzbergen (Operation GAUNTLET)
(Note: This was to demolish mines and evacuate Russian and Norwegian nationals at Barentsburg. Personnel were taken to Archangel by HMS NIGERIA and the liner)
September
1st
HMS NIGERIA rejoined from Archangel.
2nd
Canadians re-embarked and sailed from Spitzbergen.
(Note: Several small vessels captured during raid also sailed. See ARCTIC CONVOYS by R Woodman and THE WATERY MAZE by B Fergusson.)
7th
Carried out surface gunfire attack on German military convoy off North Cape with HMS NIGERIA.
(Note: A German naval training ship BREMSE deployed as escort was sunk and two other escorts damaged. The two troopships in this convoy escaped. HMS NIGERIA was damaged possibly after grounding or striking a wreck)
8th
Escorted three colliers, an icebreaker, a whaler, a tug and fishing vessels to Clyde.
10th
Returned to Scapa Flow and resumed Squadron patrol duties. Deployed for interception duties near Iceland.
25th
Arrived in Iceland during patrol.
October
Transferred with HM Cruiser PENELOPE to 15th Cruiser Squadron based at Alexandria and prepared for service in Mediterranean.
12th
Sailed from Scapa Flow for Gibraltar with HM Cruiser PENELOPE.
18th
At Gibraltar.
19th
Sailed from Gibraltar with HMS PENELOPE and met HM Destroyers LANCE and LIVELY before taking joint passage to Malta to form Force K. (The Siege of Malta: WW2)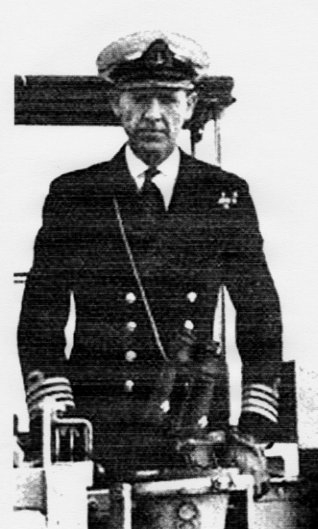 Vice Admiral Sir William Gladstone Agnew (1898 to 1960)
Commanding the HMS Aurora (Captain W. G. Agnew) from 1 Sept 1940 to 11 Nov 1943

21st
Arrived in Malta for deployment as Force K for attacks on enemy supply traffic to and from North African ports.
25th
Deployed with Force K ships to intercept convoy reported on passage to Brindisi.
Returned to Malta after unsuccessful search.
November
1st
Carried out another unsuccessful search with ships of Force K.
9th
During interception operation carried out night attack on seven ship convoy escorted by four destroyers. Sank all mercantiles and Italian destroyer FULMINE in gun attacks.
(Note: Two other destroyers EURO and GREGALE were damaged.)
Returned to Malta undamaged with HMS PENELOPE, HMS LANCE and HMS LIVELY
18th
Carried out offensive sweep as a diversion during military operations in North Africa.
21st
Deployed with Force K in further diversionary operation to simulate convoy movement and returned to Malta after nightfall.
23rd
Sailed for interception of convoy on passage to Benghazi from Greece.
24th
Intercepted convoy west of Crete and sank mercantiles MAROTZA and PROCIDA carrying oil fuel. The two torpedo boats LUPO and CASSIOPEA escorting the convoy were damaged.
25th
Returned to Malta with ships of Force K
28th
Sailed from Malta with ships of Force K to meet HM Cruisers AJAX and NEPTUNE, HM Destroyers KIMBERLEY and KINGSTON on passage from Alexandria to reinforce Malta Striking Force as Force B to increase offensive operations against supply traffic.
29th
Arrived in Malta.
30th
Deployed on joint deployment with Force B
December
1st
Engaged Italian auxiliary cruiser ADRIATICO with ships of Force K and later intercepted tanker IRIDIO MANTOVANI escorted by destroyer ALVISE DA MOSTA which were both sunk by surface fire in position 75 miles NE of Tripoli.
(Note: Ships of Force B were deployed separately.)
9th
Deployed in search for convoy with HM Cruisers PENELOPE and NEPTUNE screened by HM Destroyers JAGUAR and KANDAHAR.
10th
Returned to Malta after unsuccessful operation.
17th
Joined HM Cruisers NAIAD and EURYALUS of 15th Cruiser Squadron from Alexandria and Fleet destroyers escorting HM Supply Ship BRECONSHIRE carrying supplies for Malta and under threat of attack by Italian major warships including battleship LITTORIO and two cruisers. Took part in tactical deployments which caused Italian ships to retire.
(1st Battle of Sirte - See ENGAGE THE ENEMY MORE CLOSELY, MALTA CONVOYS by R Woodman, THE BATTLE FOR THE MEDITERRANEAN by D Macintyre and Naval Staff History (HMSO-2001).
Afterwards detached with ships of Force K to ensure safe arrival of HMS BRECONSHIRE.
18th
Deployed with HMS PENELOPE, HMS NEPTUNE, HM Destroyers KANDAHAR LANCE, LIVELY and HAVOCK to intercept a convoy off Tripoli.
19th
Force ran into enemy minefield as a result of which HMS NEPTUNE and HMS KANDAHAR were sunk. Struck mine on port side forward, abreast B turret ,causing flooding and severe structural damage. List corrected by counter flooding and ship returned to Malta escorted by HMS LANCE and HMS HAVOCK.
21st
Taken in hand for repair by HM Dockyard Malta.
1 9 4 2
January
Under temporary repair to allow permanent repair in UK.
Sustained further damage in dry dock during air raids.
HMS Medway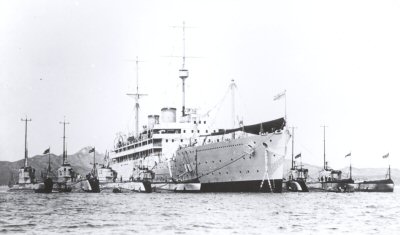 1 9 4 2
January to April
Deployment at Alexandria in continuation.
May
Nominated for transfer to Beirut in the event of threat of invasion of Egypt by enemy forces. Remained at Alexandria for submarine support.
June
29th
Embarked stores and 1,135 personnel for transfer to new base at Beirut. Took passage to Beirut escorted by cruiser and seven Fleet destroyers.
30th
Sunk by torpedoes fired from U372 off Alexandria. Only 30 personnel were lost.
See HITLER'S U-WAR by C Blair for details.
(Note: During later salvage operations 47 of the stock of 90 torpedoes carried were recovered. HM Destroyers SIKH, ZULU, CROOME and TETCOTT sank U372 on 4th August in position 32.28N 34..37E. 47 personnel from the submarine were rescued including a Lebanese civilian whose presence on board has never been explained and may have been an Agent for German intelligence.)
HMS Devonshire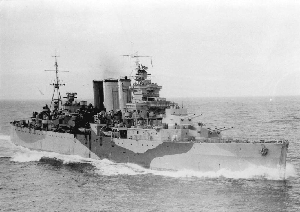 1 9 4 2
August to September
Indian Ocean trade defence and patrol duties in continuation. Escorted convoys between India, West Africa and Fremantle, Australia.
October
3rd
Joined military convoy WS22 in Durban as Local Escort during passage in India Ocean.
11th
Detached from WS22 on arrival at separation point for Aden and Bombay sections.
21st
Took passage from Kilindini to join search operation with HM Cruisers MAURITIUS and ENTERPRISE for submarine supply ships in Gulf of Aden and Gulf of Oman (Operation DEMCAT)
27th
Commenced DEMCAT search with RAF CATALINA aircraft co-operation.
30th
DEMCAT search terminated without success and resumed trade defence duties.
November
Indian Ocean trade defence in continuation.
December
Indian Ocean deployment in continuation.
1 9 4 3
January
Indian Ocean trade defence in continuation.
February
4th
Joined military convoy of five troopships with HM Cruiser GAMBIA as Ocean escort during passage in Indian Ocean from Suez to Fremantle, Australia with 30,000 men of 9th Australian Division recalled from Middle East service to Australia after Japanese threat to Australia and New Zealand. (Operation PAMPHLET)
18th
Detached from convoy on arrival at Fremantle and resumed Eastern Fleet duties.
March
Indian Ocean deployment in continuation. Nominated for return to UK for refit.
HMS Lucia
16 March 1943 to the 14 January 1944
During the Second World War HMS Lucia was based in Durban, South Africa serving in the Far East (Indian Ocean).
HMS Wivern
1 9 4 4
January to August
Under repair and refit.
September
Post refit trials and recommissioned for service in Nore Command with the Harwich Escort Force.
October
Deployed at Harwich for nightly anti-E-Boat patrols for protection of East Coast convoys
November to December
Transferred to Rosyth for service with Rosyth Escort Force to escort of East Coast convoys during North
December
Sea passage to and from Thames estuary.
(For details of this period see SEAGULLS IN MY BELFRY by C C who was in command of the ship.)
1 9 4 5
January
Sustained structural damage during convoy escort in Force 12 Gale conditions and taken in hand for repair by HM Dockyard, Rosyth.
February
Resumed convoy escort duties on completion of repair.
March
Deployed as escort for Convoy FS56.
14th
During escort of south bound convoy off Newcastle carried out search for submarine which had carried out an attack on the ships under escort and hit a Norwegian mercantile which later sank. Joined by HM South African Frigate NATAL which was on passage from Newcastle to Scapa Flow after her acceptance from the builder. This new frigate then carried out a SQUID Anti-submarine mortar attack after detecting a submarine and oil and wreckage came to the surface. SANS NATAL the detached and continued passage.
(Note : In view of the inconclusive evidence available the hunt was for some hours with depth charge attacks which produced significant further quantities of fuel oil. Left the area when other warships arrived from Rosyth to continue hunt.
This submarine was later identified as U714 and her sinking in position 55.57N 01.57W was credited to SANS NATAL. This decision is at variance with contemporary reports rendered by HMS WIVERN and with signals exchanged with shore authorities. The position in which the sunken submarine was found is different from the original attack on FS56 which suggests U714 was only damaged by the SQUID Mortar bombs from SANS NATAL. There were no survivors from U714.
(See SEAGULLS IN MY BELFRY by C C Anderson.)
April
East Coast convoy escort in continuation.
May to June
After VE Day deployed for support of re-occupation of Norway and transport of allied personnel. Nominated for reduction to Reserve status.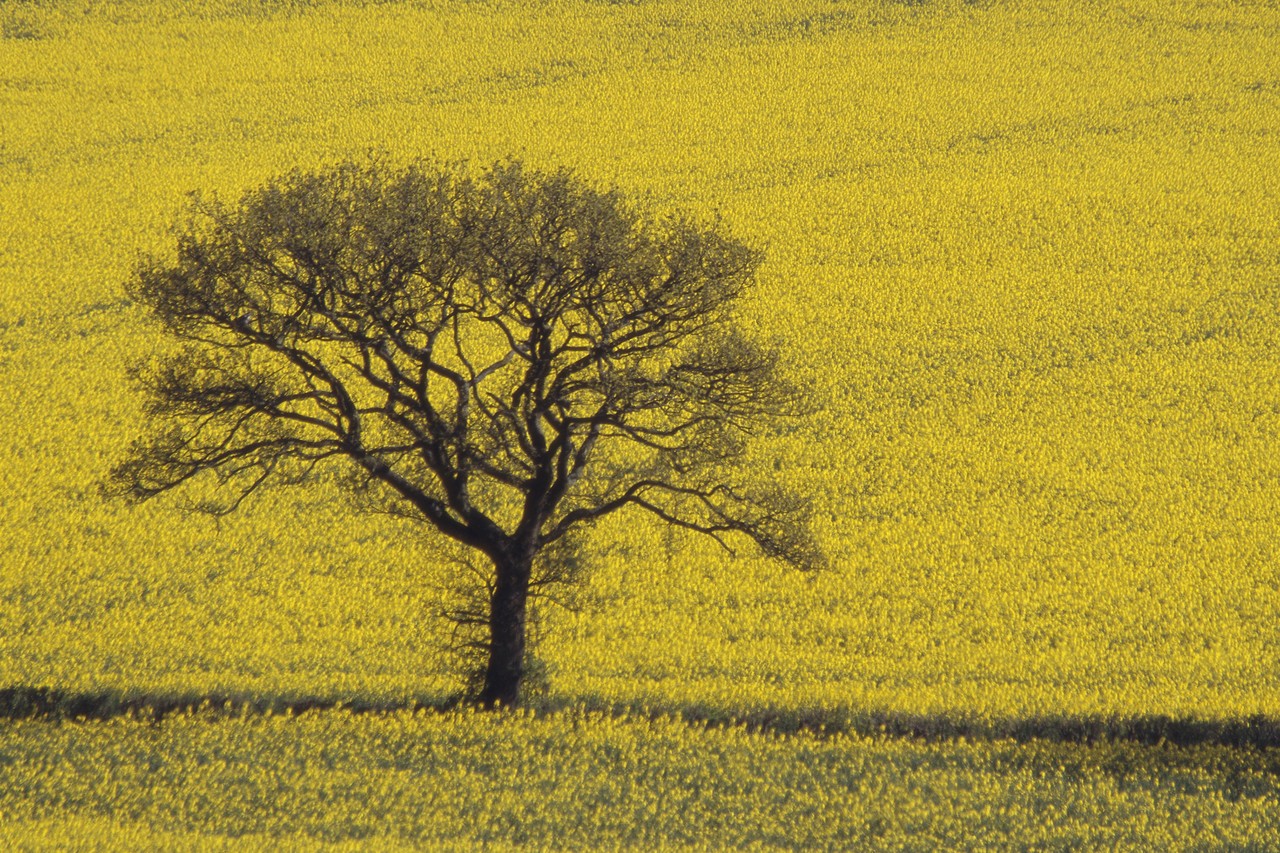 Click on the Tree to View
Samuel Leonard Gray's Family Tree